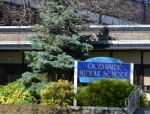 Oceanside Middle School - details...
Description: Oceanside Middle School athletic fields are located behind the school buildings. There is one baseball field, one softball field and a multipurpose field for soccer, lacrosse and football. Parking is available on the street next to the fields and in the school lots.
Address: 186 Alice Ave Oceanside, New York 11572
Field Type: Grass
Sports Played: Baseball Football Lacrosse Soccer Softball
FieldFinder Amenities Rating: 2.5 stars out of 5

FieldFinder creates its star rating based upon the presence or absence of the amenities enumerated below.
Total for this field is based upon...
Bathrooms: No
Concessions: No
Field Maintenance: Yes
Covered Dugouts: No
Little League Regulation: No
Night Games: No
Parking: Yes
Playground: Yes
Seating: Yes
Tournaments: Yes

Directions
Your "From" address: